2009 IFMAR 1/8 On-Road World Championship

August 13-23, 2009, Lostallo, Switzerland



1/8th scale World Championship in Lostallo, Switzerland, was held from August 13th to 23rd. The competitive starting list was completed by a lot of fast drivers from all around of the world.
Mugen's Robert Pietsch from Germany took the TQ honors and only the man made 30 laps 10:18.328 followed by 8 times world champion Lamberto Collari who managed 29 laps 10:01.484.
The third spot went to Albert Picco who wins warm up in June.
Pos.
Name

Country

Laps/Time

Car

Qualifying Result

TQ
Robert Pietsch
DE

30L 10:18.328

Mugen
2
Lamberto Collari
IT
29L 10:01.484
Kyosho
3
Alberto Picco
IT
29L 10:03.465
Mugen
4
Mark Green
EN
29L 10:03.535
Serpent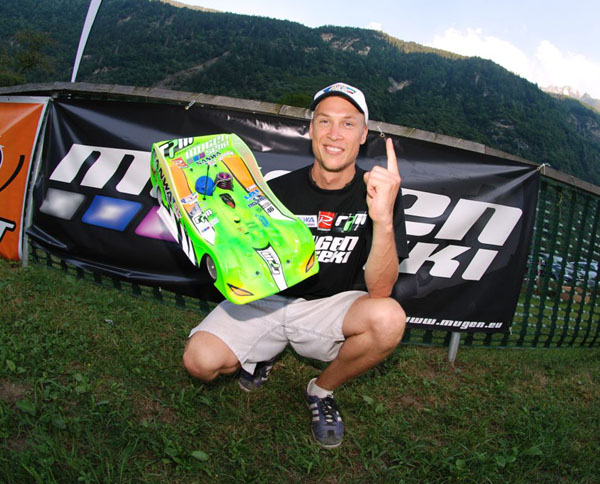 Grand final:
After the start of the 60 minutes final, Lamberto Collari from Italy wins his 9 times world champion title followed by Mike Swauger from USA and Adrien Bertin in the 3rd. 4 Mugen MRX4X in the grand final and with 47 drivers trusted in the performance and durability of the Mungen Seiki MRX4, Mugen Seiki was the most used brand at this world championship.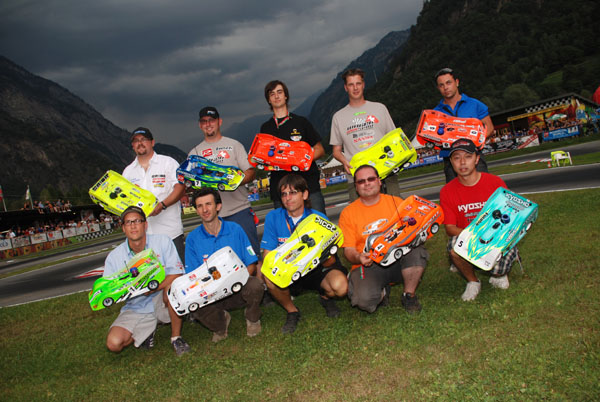 Finalist
Pos.
No.
Name

Country

Laps/Time

Best Lap
Car
Engine

Grand Final (60 min.)

1
2
Lamberto Collari

IT

172L / 1:00:19.212
19.957
Kyosho
Nova
2
7
Mike Swauger
US
170L / 1:00:04.276
20.009
Mugen
Nova
3
6
Adrien Bertin
FR
170L / 1:00:11.468
20.214
Kyosho
Orion
4
1
Robert Pietsch
DE
169L / 1:00:14.138
19.972
Mugen
Nova
5
3
Alberto Picco
IT
169L / 1:00:20.582
20.205
Mugen
Picco
6
10
Dario Balestri
IT
167L / 0:59:58.875
20.130
Motonica
Nova
7
5
Takaaki Shimo
JP
167L / 1:00:06.954
20.042
Kyosho
OS
8
4
Mark Green
EN
166L / 1:00:09.586
20.003
Serpent
Nova
9
9
Rick Vrielijnck
HO
165L / 1:00:10.562
20.150
Mugen
Reds
10
8
Robin D'hondt
BE
164L / 1:00:01.518
20.176
Motonica
Nova